Panama Covid-19 update – you will now require both a face shield and a face mask to travel on public transport (bus and metro) – not sure about taxis. I have thought that buses (and bus stops) were an obvious congestion/contagion point, so this seems a good idea.
Meanwhile, figures do not seem to be getting noticeably better – 3,315 new cases and 29 new fatalities today. There are now said to be 56,673 active cases, with 229 in ICU and 2,424 in other wards.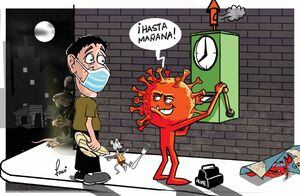 13 JANUARY 2021
FORMWE ITALIAN MP SENTENCED TO 4 YEARS FOR TAKING BRIBES FROM AZERBAIJAN
On 12 January, Public Radio of Armenia carried a story saying that a court in Milan sentenced Luca Giuseppe Volontè, former member of the UDC and member of the Parliamentary Assembly of the Council of Europe, to 4 years in prison for corruption.  He is accused of abusing his function, receiving €500,000 from 2 Azerbaijani politicians to guide the vote and obtain the rejection of a report on political prisoners.
https://en.armradio.am/2021/01/12/former-italian-mp-sentenced-to-4-years-for-taking-bribes-from-azerbaijan/
POLICE HUNT WOMAN AFTER $13 MILLION VANISHES FROM SOUTH KOREAN CASINO
On 12 January, the Wall Street Journal reported that police in South Korea are looking for leads in the disappearance of millions of dollars in cash from Jeju Shinhwa World, one of the largest resorts on Jeju Island, a casino on a popular holiday island. The equivalent to $13 million, had gone missing from the Landing Casino, where gamblers typically play baccarat and other high-stakes card games. Hong Kong-based casino operator Landing International Development Ltd. has asked police to look for a female employee from Malaysia who had been in charge of the cash but had not returned to work after leaving for a vacation at the end of December.
https://www.wsj.com/articles/police-hunt-woman-after-13-million-vanishes-from-south-korean-casino-11610456914
ASSET CONFISCATION IN CAYMAN ISLANDS
In October, Lexology published a "snapshot" of the criminal assets confiscation framework in the Cayman Islands.
https://www.lexology.com/gtdt/tool/workareas/report/asset-recovery/chapter/cayman-islands
https://www.visualcapitalist.com/mapped-the-worlds-largest-state-owned-oil-companies/
INTERNATIONAL FREIGHT AND TRADE COMPLIANCE KEY MANAGEMENT CONSIDERATIONS FOR 2021
On 29 December, Global Trade Magazine published a White Paper which addresses 6 steps to follow to help reduce risk and cost in the area of international shipping, freight and logistics. The 6 steps originate from the authors' 35–year experience in moving freight all around the world and in assisting corporations with global logistics that are cost-effective and reduce risk to themselves and their clients –
1. Chose the Best INCO Term
2. Insure the Shipment
3. Chose the Right Freight Forwarder and Carrier
4. Track all Shipments Proactively
5. Understand the Total "Landed Costs"
6. Be Trade Compliant!
Point in time in the transaction where risk and cost is transferred from one party to the other.
https://www.globaltrademag.com/exclusive-white-paper-international-freight-and-trade-compliance-key-management-considerations-for-2021/
US: FORMER NGO EMPLOYEE PLEADS GUILTY TO BRIBERY IN RELATION TO SYRIA USAID CONTRACTS
On 8 January, in its Corporate Crime & Investigations Update newsletter, Addleshaw Goddard reported that a former procurement specialist, a Turkmenistan citizen, has pleaded guilty to paying bribes to NGO procurement officers in exchange for sensitive procurement information relating to contracts funded in part by the US Agency for International Development (USAID) for the procurement of food and supplies including for refugees displaced by the conflict in Syria.
https://www.addleshawgoddard.com/en/insights/insights-briefings/2021/corporate-crime–investigations-update/corporate-crime-update-8-january-2021/
FCA FINES CHARLES SCHWAB UK £8.96 MILLION OVER SAFEGUARDING AND COMPLIANCE FAILURES
On 23 December, a news release from the FCA announced that it had fined Charles Schwab UK Ltd £8.96 million for failing to adequately protect client assets, carrying out a regulated activity without permission and making a false statement to the FCA. Customers affected by the breaches were all retail customers and the breaches occurred between August 2017 and April 2019, after CSUK changed its business model.
https://www.fca.org.uk/news/press-releases/fca-fines-charles-schwab-uk-over-safeguarding-and-compliance-failures
3 IRANIAN NATIONALS HAVE BEEN CHARGED IN AN INDICTMENT WITH CONSPIRACY TO EXPORT US GOODS TO IRAN
On 12 January, a news release from the US DoJ advised that 3 individuals have been charged in an indictment with conspiracy to export US goods to Iran in violation of the International Emergency Economic Powers Act (IEEPA) and the Iranian Transactions and Sanctions Regulations (ITSR), as well as conspiracy to smuggle goods from the US, and conspiracy to engage in international money laundering. According to the indictment, in 2015-17 they allegedly conspired with each other and others to obtain goods in the US and export them to Iran – and are alleged to have conspired to fraudulently and knowingly export and send 9 electrical discharge boards, 1 CPU board, 2 servo motors, and 2 railroad crankshafts from the US to Iran in violation of economic sanctions.
https://www.justice.gov/opa/pr/three-charged-illegally-exporting-goods-iran
US: NEW RULE TO EASE EXPORT RESTRICTIONS ON DRONES TO ALLIES AND PARTNER NATIONS
On 13 January, the European Sanctions blog reported that on 12 January a new Rule had come into effect whereby the Bureau of Industry and Security had amended the Export Administration Regulations to implement changes.  Those UAS with a range and payload capability equal to or greater than 300 km/500 kg but a maximum true airspeed of less than 800 km/hr which were previously identified in the Missile Technology Control Regime (MTCR) Annex as Category I items will now be treated as Category II items and therefore export licence applications will not be subject to a strong presumption of denial. 
https://www.europeansanctions.com/2021/01/bis-revises-ear-to-ease-restrictions-on-exports-of-certain-drones/
US TELLS EUROPEAN COMPANIES THEY FACE SANCTIONS RISK ON NORD STREAM 2 PIPELINE
On 13 January, Yahoo reported that the US State Department this month told European companies which it suspects are helping to build Russia's Nord Stream 2 gas pipeline that they face the risk of sanctions as the outgoing Trump administration prepares a final round of punitive measures against the project. It said it was trying to inform companies of the risk and urge them to pull out before it's too late. Zurich Insurance Group could be listed in the report, the source said. Zurich said it is "committed to fully comply with any applicable sanctions regulations".
https://uk.sports.yahoo.com/news/exclusive-u-tells-european-companies-135206009.html
https://www.insurancejournal.com/news/international/2021/01/13/597324.htm
UK AND CANADA ANNOUNCES MEASURES AGAINST XINJIANG OVER HUMAN RIGHTS VIOLATIONS
On 12 January, ShareCast reported that the UK Foreign Secretary, had announced a package of measures aimed at ensuring that British organisations are not complicit in the human rights violations taking place in the Chinese region of Xinjiang. They include a review into which UK products can be exported to the area and the introduction of penalties for businesses that do not comply with the Modern Slavery Act. Further measures include increasing support for UK public bodies to exclude businesses complicit in human rights abuses from their supply chains.
https://www.sharecast.com/news/international-economic/uk-government-announces-sanctions-against-xinjiang-human-rights-violations–7775337.html
https://www.euractiv.com/section/china/news/uk-condemns-chinese-barbarism-against-uighur-minority/
Meanwhile, on 12 January, a news release advised that Canada had announced new measures to address human rights abuses in Xinjiang,  It says that, in coordination with the UK and other international partners, Canada is adopting a comprehensive approach to defending the rights of Uyghurs and other ethnic minorities, including by advancing measures to address the risk of forced labour from any country from entering Canadian and global supply chains and to protect Canadian businesses from becoming unknowingly complicit. 
https://www.canada.ca/en/global-affairs/news/2021/01/canada-announces-new-measures-to-address-human-rights-abuses-in-xinjiang-china.html
https://www.cmtradelaw.com/2021/01/uk-and-canada-announce-new-measures-to-combat-forced-labor-and-human-rights-violations
SAUDI ARABIA: 5 ILLEGALS NABBED OVER MONEY SMUGGLING
On 13 January, Gulf News reported that Saudi authorities have arrested 5 illegal residents involved in collecting and transferring money of unknown origin to outside the kingdom. The suspects are Yemeni nationals involved in transferring the money through bank accounts of commercial entities owned by 3 Saudi citizens who had allowed them to use the accounts.
https://gulfnews.com/world/gulf/saudi/saudi-arabia-5-illegals-nabbed-over-money-smuggling-1.1610532084012
INDIA: COAL SMUGGLING CASE – CBI RAIDS 10 LOCATIONS IN WEST BENGAL 
On 13 January, Republic World reported that the Central Bureau of Investigation has raided 10 locations in the ongoing investigation of coal smuggling case and the agency has raided Asansol, Raniganj, Jamuria & 7 other places. It is alleged that there are several coal mines in the state that have not been given any lease by the Central government, yet mining is illegally carried out.
https://www.republicworld.com/india-news/general-news/coal-smuggling-case-cbi-raids-10-locations-in-west-bengal-including-in-asansol-and-ranigaj.html
OFFICIALS SAY THAILAND BEING USED AS TRANSIT HUB FOR KETAMINE SMUGGLING
On 13 January, The Thiager reported that the Office of the Narcotics Control Board says Thailand is being used as a transit hub for gangs smuggling ketamine into the Kingdom from Taiwan and China. The drug is then destined for re-export to places like Hong Kong and Malaysia, and the ONCB saying it's becoming more prevalent in areas with a lot of nightlife venues. Officials believe the drug is being produced in India, China, and Myanmar, with drug enforcement agencies in countries on the Mekong River working together to share knowledge on the trade and smuggling operations.
https://thethaiger.com/hot-news/crime/officials-say-thailand-being-used-as-transit-hub-for-ketamine-smuggling
ACFCS OFFERS TIPS, TACTICS, RESOURCES TO SUPPORT HUMAN TRAFFICKING AWARENESS AND PREVENTION MONTH
On 11 January, the Association of Certified Financial Crime Specialists published an article saying that January is Human Trafficking Prevention Month with 11 January being designated as National Human Trafficking Awareness Day, a move done in an effort to focus more attention on a growing problem with tethers to financial crime compliance teams and law enforcement agencies at every level.
https://www.acfcs.org/acfcs-offers-more-tips-tactics-resources-to-support-human-trafficking-awareness-and-prevention-month/
CHINA'S MONEY LAUNDERING PENALTIES HIT RECORD IN 2020
On 13 January, Caixin reported that China's central bank handed out record penalties to institutions and employees for money laundering.
https://www.caixinglobal.com/2021-01-13/charts-of-the-day-chinas-money-laundering-penalties-hit-record-in-2020-101650392.html
US: OWNER OF BITCOIN EXCHANGE SENTENCED TO PRISON FOR MONEY LAUNDERING
On 13 January, Finextra reported that a Bulgarian national who was convicted by a federal jury for his role in a transnational and multimillion-dollar scheme to defraud US victims was sentenced to 121 months in prison. Rossen G Iossifov, 53, formerly of Bulgaria, was sentenced for conspiracy to commit a Racketeer Influenced and Corrupt Organizations Act (RICO) offence and conspiracy to commit money laundering. It is said that Iossifov owned and managed RG Coins, a cryptocurrency exchange headquartered in Sofia, Bulgaria, According to the evidence at trial, he knowingly and intentionally engaged in business practices designed to both assist fraudsters in laundering the proceeds of their fraud and to shield himself from criminal liability.
https://www.finextra.com/pressarticle/85691/owner-of-bitcoin-exchange-sentenced-to-prison-for-money-laundering
https://mondovisione.com/media-and-resources/news/us-department-of-justice-owner-of-bitcoin-exchange-sentenced-to-prison-for-mone/
INDIA: FORMER MP ARRESTED IN ALLEGED MONEY LAUNDERING CASE
On 13 January, NDTV reported that former Trinamoop Rajya Sabha MP and businessman KD Singh has been arrested in connection with an alleged money laundering case.
https://www.ndtv.com/india-news/former-parliamentarian-kd-singh-arrested-in-alleged-money-laundering-case-2351825
https://www.orissapost.com/former-tmc-mp-kd-singh-arrested-in-money-laundering-case/
SOUTH AFRICA: SUSPICIOUS TRANSACTIONS, MONEY LAUNDERING ON THE INCREASE
On 12 January, News 24 reported that the Financial Intelligence Centre has reported that SAR increased from 288,000 to 300,000 in 2019.
https://www.news24.com/news24/southafrica/investigations/suspicious-transactions-money-laundering-on-the-increase-in-sa-fic-report-20210113
UK: CALL FOR SUBMISSIONS ON HUMAN RIGHTS
An independent Human Rights Act review (IHRAR) chaired by Sir Peter Gross has published a paper calling for submissions and saying that the review will consider 2 key themes: the relationship between domestic courts and the European Court of Human Rights; and the impact of the Human Rights Act on the relationship between the judiciary, the executive and the legislature.  The paper says that the Human Rights Act has now been in force for 20 years and it is timely to review its operation and framework. The Independent Human Rights Act Review (IHRAR) has been established to carry out that review and it is explicitly independent and contains a robust panel of eminent lawyers and academics.
https://assets.publishing.service.gov.uk/government/uploads/system/uploads/attachment_data/file/951860/ihrar-call-for-evdience.pdf
BREXIT: ENGLISH IP LAW IMPLICATIONS
An article from Out-Law on 12 January reported that this article is part of a series. It advises readers on the immediate considerations and anticipates how Brexit will impact on the IP/IT market now that the transition period has ended. A link is also provided to an explanation of the finalised Withdrawal Agreement.
https://www.twobirds.com/en/news/articles/2016/uk/brexit-english-intellectual-property-law-implications
EU CRITICISES US LABELLING YEMEN HUTHI REBELS AS 'TERRORISTS'
On 13 January, EurActiv reported that a spokesman for EU foreign policy chief Josep Borrell said the US decision "risks rendering UN-led efforts to reach a comprehensive solution to the Yemen conflict more difficult".  Aid groups have warned against the blacklisting of the Huthis, saying that they have no option but to deal with what is the de facto government in northern Yemen.
https://www.euractiv.com/section/global-europe/news/eu-criticises-us-labelling-yemen-huthi-rebels-as-terrorists/
EXCAVATED SOILS: THE BIGGEST SOURCE OF WASTE YOU'VE NEVER HEARD OF
On 13 January, an article in EurActiv says that soils extracted from construction sites are by far the biggest source of waste produced in Europe every year – 5 times the amount of household waste, and that excavated soils are the biggest source of waste across Europe in volume – yet governments are turning a blind eye to the issue.  For example, in France, it's 150 million tonnes produced every year.  It is said that excavated soils are currently considered waste under EU law and are therefore disposed of in landfills.  Yet, 80% of those soils are not contaminated and could be safely reutilised elsewhere if a proper traceability system was put in place.
https://www.euractiv.com/section/circular-economy/news/excavated-soils-the-biggest-source-of-waste-youve-never-heard-of/
REBELS ATTACK CENTRAL AFRICAN REPUBLIC'S CAPITAL, SAYS PM
On 13 January, Defence Web reported that security forces in Central African Republic repelled an attack by armed groups seeking to seize the capital Bangui in a marked escalation of fighting with rebels opposed to the president.  The CAR army, backed by French, Russian, Rwandan and UN forces, has been battling groups seeking to derail a disputed 27 December election in which President Faustin-Archange Touadera was declared victor.
https://www.defenceweb.co.za/security/national-security/rebels-attack-central-african-republics-capital/
KEY INDICATORS TO COMBAT HUMAN TRAFFICKING FOR LABOUR EXPLOITATION
On 12 January, the Council of Europe reported that its Convention on Action against Trafficking in Human Beings (GRETA) has issued a new Guidance Note on preventing and combating trafficking in human beings for the purpose of labour exploitation sets out the key indicators to support states in ensuring, for example, properly-functioning labour inspectorates, reporting requirements, effective victim identification and assistance and appropriate criminal justice responses.
https://www.coe.int/en/web/portal/-/key-indicators-to-combat-human-trafficking-for-labour-exploitation
A EUROPEAN ARREST WARRANT MUST BE REGARDED AS BEING INVALID WHEN IT IS NOT BASED ON A NATIONAL ARREST WARRANT OR ANY OTHER ENFORCEABLE JUDICIAL DECISION HAVING THE SAME EFFECT
A news release from the European Court of Justice on 13 January was concerned with a case originating with criminal proceedings which were initiated in Bulgaria against 41 individuals for having participated in a criminal drug trafficking organisation, and 16 of them. 
https://curia.europa.eu/jcms/upload/docs/application/pdf/2021-01/cp210002en.pdf
GUERNSEY'S REVENUE SERVICE UPDATED GUIDANCE ON MUTUAL AGREEMENT PROCEDURE DISPUTE RESOLUTION
On 13 January, Tax News reported that Guernsey has issued new guidance – "Guidelines for requesting Mutual Agreement Procedure (MAP) assistance in Guernsey" – has been updated following the entry into force of the BEPS multilateral instrument (MLI) for Guernsey. As in the previous version, the guidance explains, among other things, the purpose of double tax agreements; an overview of the MAP; how to make a MAP request and eligibility requirements; and an overview of the MAP process and disclosure requirements.
https://www.tax-news.com/news/Guernsey_Updates_MAP_Guidance____97906.html
UK: REFORMS TO ARRANGEMENTS FOR OBTAINING PERMISSION TO APPEAL FROM THE UPPER TRIBUNAL TO THE COURT OF APPEAL IN TAX CASES
On 11 January, the Institute for Chartered Accountants in England & Wales has published its response to the MoJ consultation on the proposals for reforms to arrangements for obtaining permission to appeal from the Upper Tribunal to the Court of Appeal, as published by the MoJ on 30 November. The ICAEW says that, overall, it believes that the proposals taken together would make it more difficult for cases with genuine merit to be appealed from the Upper Tribunal's Tax and Chancery Chamber to the Court of Appeal.
https://www.icaew.com/-/media/corporate/files/technical/icaew-representations/2021/icaew-rep-06-21-upper-tribunal-to-court-of-appeal.ashx
DATA PROTECTION AUTHORITY IN THE STATE WHERE A DATA CONTROLLER OR PROCESSOR HAS ITS MAIN EU ESTABLISHMENT HAS A GENERAL COMPETENCE TO START COURT PROCEEDINGS FOR GDPR INFRINGEMENTS IN RELATION TO CROSS-BORDER DATA PROCESSING
A news release from the European Court of Justice on 13 January advised that the Advocate General has issued its Opinion saying that other national data protection authorities concerned are nevertheless entitled to commence such proceedings in their respective Member State in situations where the GDPR specifically allows them to do so.  Such an Opinion is not binding on the court but is highly persuasive.
https://curia.europa.eu/jcms/upload/docs/application/pdf/2021-01/cp210001en.pdf
BANGLADESH: 6 FORMER MANAGING DIRECTORS AND 16 OTHERS LAND IN JAIL OVER BARAPUKURIA COAL EMBEZZLEMENT
On 13 January, bdnews 24 reported that a court has sent 22 people, including 6 former managing directors of Barapukuria Coal Mining Company Ltd, to jail pending trial in a case over embezzlement of about 144,000 tonnes of coal. The embezzlement took place between January 2006 and July 2018, according to the investigation.
https://bdnews24.com/bangladesh/2021/01/13/six-former-mds-16-others-land-in-jail-over-barapukuria-coal-embezzlement
US: MAN BEHIND $147 MILLION GEMCOIN SCAM GETS 10 YEARS IN JAIL
On 13 January, Coingeek reported that Steve Chen, the founder of one of the earliest cryptocurrency scams, has been sentenced to 10 years for defrauding over 70,000 investors.  He operated Gemcoin, a scam that made away with over $147 million.
https://coingeek.com/man-behind-147m-gemcoin-scam-gets-10-years-in-jail
GIBRALTAR: HM CUSTOMS SEIZE 825 KG OF CANNABIS RESIN
A news release on 13 January advised that HM Customs Marine unit have seized 825 kg of cannabis resin and a Spanish-registered vessel. Customs Officers stopped a white pleasure craft 1½ miles south-east of Europa Point. After questioning the 2 male occupants, a Spanish and a Portuguese national, Customs Officers boarded the vessel and conveyed it to Customs Marine Base for a thorough search.
https://www.gibraltar.gov.gi/press-releases/hm-customs-seize-825-kilos-of-cannabis-resin-512021-6594
NIGERIA CUSTOMS SERVICE (NCS) IN LAGOS – SEIZURE OF 318 CONTAINERS IN 2020
On 13 January, The Guardian in Nigeria reported that the Nigeria Customs Service (NCS) in Lagos made a total seizure of 318 containers, including 133 containers of unregistered pharmaceutical products. Some of the seized items are 133 containers of unregistered pharmaceuticals, including tramadol; 58 containers of parboiled rice; 30 containers of vegetable oil; 31 containers of used clothes and shoes; 13 containers of used tyres, and other sundry items.
https://guardian.ng/news/apapa-customs-command-seizes-133-containers-of-drugs-generates-n518b/
EL SALVADOR PROTECTS ACCOUNTS OF SUSPECTED MONEY LAUNDERERS
On 13 January, an article from Insight Crime reported that the head of El Salvador's financial regulatory agency has instructed banks not to close the accounts of suspected or formally accused money launderers – described as the latest in a long line of incidents that expose the country's hollow fight against graft.
https://www.insightcrime.org/news/brief/money-launderers-bank-accounts-el-salvador/
THE PHONE REMAINS A USEFUL WEAPON AGAINST FRAUD
On 13 January, an article in Hellenic Shipping News reported that cyber-crime connected with fraudulent demands for payments continue to plague the maritime sector as a large claim handled by the International Transport Intermediaries Club (ITIC) demonstrates.  It says that ITIC has reinforced its advice that all companies should be very aware of vendors or partners who change their bank details and should always telephone to confirm. And when doing so, they must use a phone number they trust, and not simply the one stated on the (potentially fraudulent) invoice.
https://www.hellenicshippingnews.com/the-phone-remains-a-useful-weapon-against-fraud-advises-itic/
MALTA: ELECTROGAS AUDITORS CAUTIOUS FOLLOWING CORRUPTION REVIEW
On 13 January, the Times of Malta reported that Electrogas auditors PwC have struck a cautious tone in response to a "legal review" which did not substantiate corruption alle­gations swirling around the power station consortium. It says that law firm White & Case was given access to documents, data and company employees as well as its current shareholders as part of the review process. Former Electrogas director Yorgen Fenech, who is suspected of complicity in Daphne Caruana Galizia's murder, used to be the lead director on the power project, and the review process began after his arrest in connection to the murder in November 2019.
https://timesofmalta.com/articles/view/electrogas-auditors-cautious-following-corruption-review.844131
USE OF PRIVACY PRESERVING ANALYSIS TO TACKLE FINANCIAL CRIME
On 12 January, the Global Coalition to Fight Financial Crime published a paper which is an update by the Royal United Services Institute (RUSI) on the 'Future of Financial Intelligence Sharing' research programme for the worldwide mapping exercise of the use of privacy preserving analysis to tackle financial crime.  It is said that this mapping exercise demonstrates how financial institutions around the world are exploring and exploiting advances in 'Privacy Enhancing Technologies' (PET).  This field of cryptographic technology enables analysis of data from across multiple participating organisations to inform financial crime risk awareness, without the need for those organisations to share underlying sensitive data.  The mapping exercise forms part of a broader research project into the role of privacy preserving analytics in the detection and prevention of financial crime.  It is also said that the paper is intended to raise awareness about the growth of privacy preserving analytics in the field of AML and financial investigations and accelerate discussions about the implications of that growth.  The idea of PET is that data in multiple safe environments, across multiple organisations (in multiple countries), could be analysed collectively, by consent of the data owners, without any raw sensitive data leaving their safe environments.  Queries that yield no sensitive information can be executed on sensitive data, held within the safe environments, without any sensitive information being disclosed at any point.  This, it is said, is the promise of privacy preserving analysis, using privacy enhancing technologies.
https://www.future-fis.com/uploads/3/7/9/4/3794525/ffis_innovation_and_discussion_paper_-_case_studies_of_the_use_of_privacy_preserving_analysis_-_v.1.3.pdf
PODCAST: THE OECD WORKING GROUP AND THE US PHASE 4 REVIEW
In the latest TRACE podcast, Nicola Bonucci and Nat Edmonds, in Paul Hastings' Paris and Washington offices respectively, discuss the OECD Anti-Bribery Convention and the Working Group and its recent Phase 4 review of the US. They wrap up with some recommendations for multinational corporations.
https://www.traceinternational.org/resources-podcast
CHINA'S DOMINANCE IN RARE EARTH METALS
On 13 January, the Visual Capitalist published a graphic concerned with rare earth elements or simply "rare earths", a group of 17 elements is critical to a number of wide-ranging industries.  It says that although deposits of rare earth metals exist all over the world, the majority of both mining and refining occurs in China. The graphic tracks China's exports of rare earth metals in 2019, providing a glimpse of the country's dominating presence in the global supply chain.
https://www.visualcapitalist.com/chinas-dominance-in-rare-earth-metals/
OFAC ADDS 1 NAME TO TERRORISM SANCTIONS LIST
On 13 January, OFAC advised that MIRJIRASH AL-MUHAMMADAWI had been added to its SDN List.
https://home.treasury.gov/policy-issues/financial-sanctions/recent-actions/20210113_33
US COURT DECISION GIVES THE SEC THE GREEN LIGHT TO CONTINUE ENFORCING BROKER-DEALER COMPLIANCE WITH THE BANK SECRECY ACT
On 13 January, a post on the Compliance & Enforcement blog from the Program on Corporate Compliance and Enforcement at the New York University School of Law says that the Second Circuit's recent decision gives the SEC the green light to continue enforcing broker-dealer compliance with the Bank Secrecy Act.  It affirmed the SEC's authority to require broker-dealers to comply with the BSA's reporting and recordkeeping requirements, and validates the SEC's focus on broker-dealer AML programmes.
https://wp.nyu.edu/compliance_enforcement/2021/01/13/second-circuit-affirms-secs-bank-secrecy-act-powers/
ISRAEL: GERMAN PROSECUTOR CLOSES BRIBERY INVESTIGATION INTO SUBMARINE AFFAIR
On 13 January, the Jerusalem Post reported that the German Federal Prosecutor has closed criminal investigations surrounding the sale of submarines to Israel by German multinational conglomerate ThyssenKrupp AG, the German Public Prosecutor's Office in Bochum announced, according to German news portal t-online. Involving the sale of several submarines and warships to the Israeli government by ThyssenKrupp between 2009-2017, the investigation carried out by Israel's crime and corruption unit Lahav 433 has found sufficient evidence of bribery, fraud and money laundering to indict several Israeli senior officials, including several close confidants to Prime Minister Netanyahu at the time.
https://www.jpost.com/israel-news/politics-and-diplomacy/german-prosecutor-closes-bribery-investigation-into-submarine-affair-655339
CHRISTINE LAGARDE DEMANDS ACTION ON BITCOIN 'FUNNY BUSINESS'
On 13 January, the Daily Mail reported that the head of the European Central Bank took aim at the digital currency just days after the UK City watchdog warned savers they should be prepared to lose all their money if they buy it. She called for global regulation of cryptocurrencies.
https://www.dailymail.co.uk/money/markets/article-9144575/Christine-Lagarde-demands-action-bitcoin-funny-business.html
GULF OF GUINEA RECORDS HIGHEST EVER NUMBER OF CREW KIDNAPPED IN 2020
On 13 January, Hellenic Shipping News reported that the International Chamber of Commerce's International Maritime Bureau (IMB)'s annual piracy report recorded an increase of piracy and armed robbery incidents in 2020. The Piracy Reporting Centre (PRC) received 195 incidents of piracy and armed robbery against ships worldwide.  Globally, 135 crew were kidnapped from their vessels in 2020, with the Gulf of Guinea accounting for over 95% of crew numbers kidnapped. 
https://www.hellenicshippingnews.com/gulf-of-guinea-records-highest-ever-number-of-crew-kidnapped-in-2020-according-to-imbs-annual-piracy-report/
ASSET TRACING, RECOVERY AND FRAUD IN EUROPE: THE MAIN DIFFERENCES BETWEEN COMMON LAW AND CIVIL LAW
On 5 December, LaWants produced this guide to highlight some of the key differentiators between these 2 legal systems in relation to asset tracing, asset recovery, and fraud.
https://lawants.com/en/asset-tracing-recovery-and-fraud-in-europe-the-main-differences-between-common-law-and-civil-law/
https://mondovisione.com/media-and-resources/news/cisi-only-20-of-uk-financial-services-professionals-are-confident-their-firms/
If you would like to make a (polite) gesture and make a (very) modest contribution to my ongoing with my relocation, removal and computer costs, I have a page at https://www.buymeacoffee.com/KoIvM842y